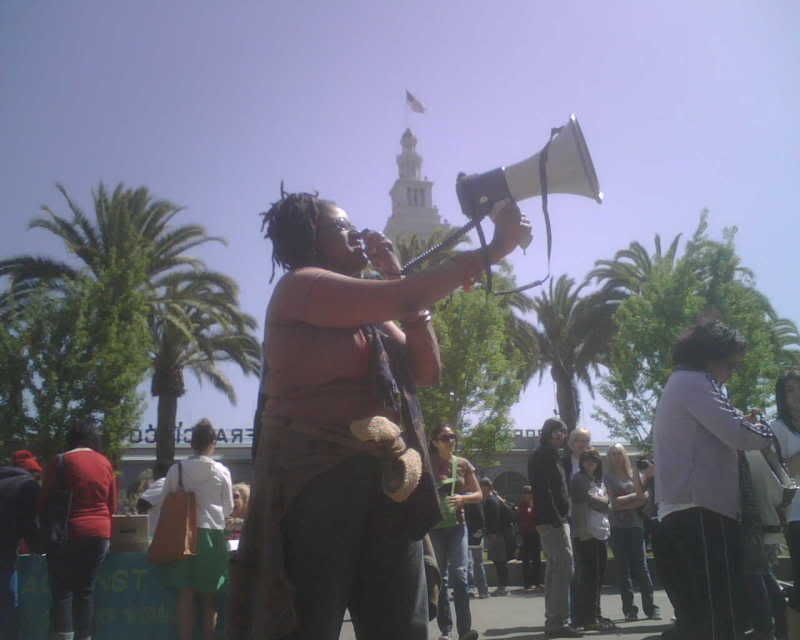 don't be scared, don't be quiet
affected by rape? join the riot!
That was one of the many chants we shouted as we walked through the streets of San Francisco on April 25th. The vibe is becoming familiar, and I continue to be re-inspired to do this important walk, do fundraising, and be visible as a male ally and a brotha around these issues.
I am really so thankful for the people who supported my efforts by giving to the
San Francisco Women Against Rape
. Because of y'all, I suspect i must have been at least one of the top ten fundraisers for the event. Friends, family and people of conscience altogether donated $1312.00 (and counting, my fundraising page is open until September), nearly double what i raised
last year.
And this is during a recession too! Hats off to folks, for real. And it is good to know that all of that will be going towards helping women in crisis get the services they need.
Being a male ally of color went to a new level this time (finally). Last year, I put out the call to men of color to walk with me. Long story short, i walked alone. I put out the call again this year-- a friend nearly flew up from Jamaica!! But funds were not really flowing, so instead we are starting convos around creating something similar in Jamaica. But one man did respond to my call, Ramesh. I had never met Ramesh in person before, but we had been emailing each other and other men around forming men's groups. Among other things, Ramesh does work with
Narika
, an organization that is a resource for South Asian women dealing with domestic violence and abuse.
The walk itself was powerful and beautiful, but the piece around connecting with other men of color in this context was the crux of this for me.
The Walk Against Rape was scheduled to meet at Justin Herman Plaza at 10am. I had anticipated a chilly San Francisco day, but it was sunny and beautiful, and i found myself stripping off layers within minutes of arriving at the check-in point. Ramesh and I didn't have much trouble identifying each other that Saturday morning, two brown guys in their 30's amongst mostly younger women. I was pleased to see a large Asian /Pacific Islander presence. The largest male presence was definitely East Asian youth. I saw several black men, and some of us smiled and did the brotha nod of acknowledgement. I found myself taking pictures of them later, wanting to document their presence. I saw various photographer lenses sway my direction as well.
Ramesh and I hit it off really well. I found myself smiling more and more as i realized i was looking into another brown male face and speaking about our lives, our passions, and feminist activism. Yay!!
Our first interesting exchange (one that challenged me) was when Ramesh suggested we talk to women of color to see what they wanted from male allies of color. I found myself hesitating, and some of it was shyness... but there was something else. I brought it up. One of my concerns around building a male ally presence at this rally, was about us even unconsciously taking up too much space. Ramesh nodded. He rehashed the approach and question for me, and though i forget how it was all modified, I felt more comfortable with it. It didn't feel as much like it could be taken as "hi, educate us now!", and definitely left the option for people not to respond if they weren't feelin it.
I am glad we made that compromise.
We approached some young sistas wearing USF hoodies, politely introduced ourselves, and asked briefly if they had any thoughts they would like to share around what they would like to see male allies of color doing. The conversation started slowly, then built momentum. The young women said that they want men to be visible and present at events like this, like how we are. They also said that they want us to talk to other men about these issues. And we learned that there had recently been
4 rapes at USF by one man,
and that the whole school was going through shock and trauma because of that. We talked about there needing to be more education around sexual assault, because college campuses have such horrible track records with rape, something that definitely isn't advertised in the admissions office. One young woman said that since its a Jesuit school, there is more of a moralist approach to these issues, and not so much breaking it down into a need for education around these issues, or framing it as a violent manifestation of patriarchy. After maybe 10 minutes, we thanked them for their time and conversation, wished them a good day, and went on our way.
I started to think more about what being active meant, and how to find out what being a good ally meant without exhausting people... how to actually do the opposite, and give energy through active listening and acknowledgement. I'm still thinking about that.
4 other South Asian men from Narika, friends of Ramesh soon joined us. 5 brown dudes reppin at the SFWAR walk! Woo hoo! It felt good to finally be at this walk, talking to other men of color about anti-sexism work. We shook hands, and our eyes met in recognition of this reality.
Lisa Thomas-Odeyemo,
the Director of Counseling of SFWAR stepped up to address the walkers with a bullhorn (pictured at the top). This has become a ritual that i look forward to. Not only does she facilitate us in grounding & stretching, to get in our bodies and feel powerful in our purpose, but she evokes the long lines of ancestors that are behind us all, leading us here to this space at this time. Grounding this in the spirit of ancestors is an important piece for me. Soooo many ancestors were dehumanized and raped during slavery, and so many others were raped in older patriarchal systems. By husbands. Fellow schoolmates. Policemen. Soldiers. Prison Guards. Gay Bashers. Relatives. Long legacies of sexual assault as a mechanism of control that are not only from older patriarchal systems, but are more than alive today. We acknowledge. And we make our bodies walking shrines of remembrance and resistance.
We take to the streets, with purposeful fire in our eyes, and chants in our throats. A truck drives with us, playing live samba drums, layers of polyrhythms bounce of the alleys made by the tall buildings of Downtown San Francisco. The sun is high, and people are smiling and chanting. It's a gorgeous walk, and we stretch for maybe two blocks, easily fillling up one side of the street. Cars drive by on the other side, honking horns in support, which always raises a big roaring cheer from the crowd. Me and Ramesh joke that if you are having a bad day, you can just drive past the rally and beep, and then hundreds of people will cheer at you! But on the real, the love was in the air, and it was a revolutionary love to be shared.
Ramesh continued to engage other walkers on their thoughts around the rally. They were mostly male youth, and even a police officer. I took the opportunity to connect with the other Narika men.
When we reach Dolores Park, the finish line was apparent, an arch of balloons blowing in the wind. The energy of the walkers picked up, and the cheers got louder in call and response style for the final stretch:
Tell Me What Community Looks Like?!
THIS IS WHAT COMMUNITY LOOKS LIKE!

Tell Me What An Activist Looks Like?!

THIS IS WHAT AN ACTIVIST LOOKS LIKE!

Tell Me What A Survivor Looks Like?!
THIS IS WHAT A SURVIVOR LOOKS LIKE!
Tell Me What An Ally Looks Like?!

THIS IS WHAT AN ALLY LOOKS LIKE!

Tell Me What Community Looks Like?!
THIS IS WHAT COMMUNITY LOOKS LIKE!
We are received by a smiling, standing ovation of park goers, supporters and organizers. The sense of arrival and triumph is buzzing in the air. Some walkers are received with hugs and kisses. Me and the Narika men go to sit in a circle on the grass to brainstorm over ideas for future meetings.
Afterwards, we go looking for some food, and then i see my honey! Yay. I'm glad we can sit together and watch the upcoming performances. At some point, a female emcee steps up to the mic, and she shares heartbreaking stories of her own sexual abuse, and stories from her community. She also shared that a law was being introduced in Afghanistan that would legalize raping one's wife under the law (which has since met much internal resistance, and
will not pass
). She went on to inform us about being in mutual alliance and support with
Denim Day
in Italy, a day that was created when a judge ruled that a woman could not have been raped because her jeans were too tight to come off without consent. Vomit. Also evoked was the disgusting case in the Philippines where US military officer Daniel Smith was arrested for raping a 22 year old Filipina, but then was whisked away by a US Embassy and acquitted. Outrageous. My pal
Kiwi reports and blogs.
Having illustrated the global impact of a rape culture, the emcee brought it back home and acknowledged the USF community for what they were going through, which inspired thankful cheers from the USF camp.
The featured acts were all very powerful, but a few really stood out to me.
Imani's Dream
, a youth dance troupe from Oakland kicked it off, and brought magic. It was so good to see little black boys and girls in this space, dancing and embodying resistance to predatory masculinity and sexual assault- as well as have a real good time! They were beautiful. Oakland Represent!!
Staceyann Chin
also read from her memoirs, her new book
"The Other Side Of Paradise"
. Wow. Staceyann is a powerful Jamaican lesbian spoken word artist, i blogged a great clip of her performing
"Feminist Or Womanist"
here around a year ago. It was great to see her again on the SFWAR stage. After some funny and facetious questioning of what's up with the cold weather (she didn't have a jacket! ahh! It was sunny but breezy for sure) she went into her fierce spoken word. And... she rocked it.
And on the real... her book is amazing. As a Jamaican, it consider it to be one of the most important works of literature to come from our own. It is well written, at times funny and shining with unmistakable Jamaican wit, but mostly just taking you on the challenging journey of a little girl from country who strove assert her humanity. It is a perspective that is important for all to read, dealing with gender, class, sexuality, and religion in ways that are rarely discussed in the larger Jamaican community. I wish it were prescribed reading in school. But I was more than pleased to see that it got
good reviews in The Gleaner
, Jamaica's premiere newspaper! I don't think I can really explain just how amazing that is.
So that is the reportback. Sorry it took so long to write it! And thank you again to everyone who supported in cash, words or spirit. And if you know some men of color who REALLY should be walking with me next year, well, let me know :) Bless up
.